The best US road trips for an epic drive
Discover the very best US road trips you need to take, from beautiful Oceanside drives to bucolic routes.
The road trip, as a ritual, has been romanticized and immortalized in popular culture through classic novels, essential movies, and countless songs. It's as much a rite of passage as it is an ultimate bucket-list adventure, and it's somehow distinctly American.
Plan your next pedal-to-the-metal getaway by perusing our list of the very best US road trips, which boast incredible views, whether they're of one of the country's top national parks, or those amazing attractions you've been meaning to check out, or America's prettiest sandy beaches. Consider this your primer for hitting the road like a pro. As always, stay safe out there.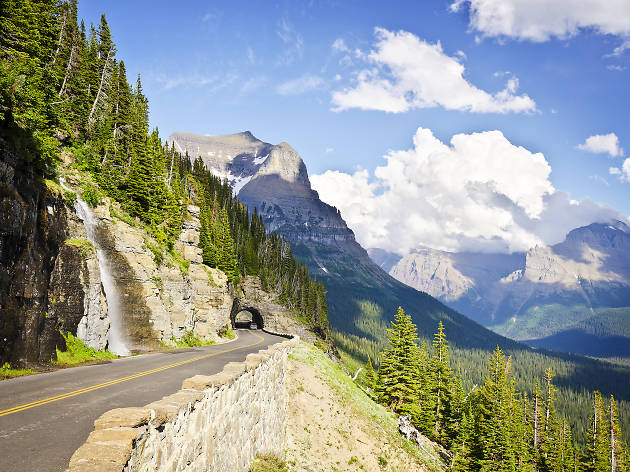 You might also like: A road trip around Utah's scenic Yellowstone Loop
Originally constructed to promote tourism and encourage people to visit America's national parks, this remarkable road has been achieving its purpose since its completion in 1932. The 50-mile artery carves through Montana's Glacier National Park, shooting through the Rockies up and over the Continental Divide at Logan Pass.
Be sure to watch out for blind curves and dramatic drop-offs, and avoid this one in the winter months, when snowbanks can reach 80 feet in depth.

Can't-miss pit stop: In the summertime, plan to pause at Logan Pass. Soaring to an elevation of 6,646 feet, it has expansive overlooks, grazing mountain goats, and blankets of rainbow-hued wildflower meadows.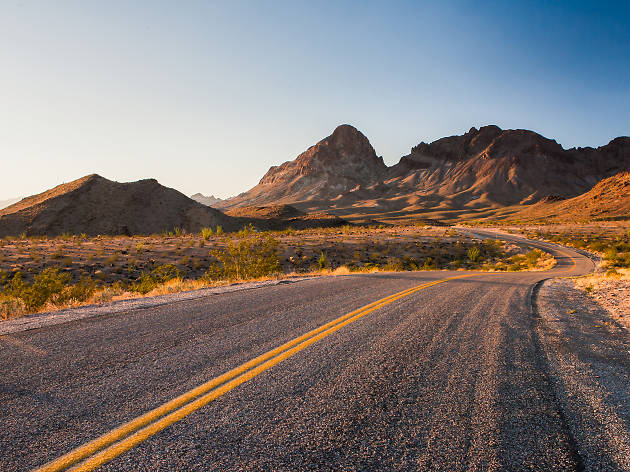 It would be blasphemous not to include Route 66 at the top of any road-trip roundup. The iconic "Mother Road" is one of the US Highway System's original routes, starting in Chicago and winding its way across the country to Santa Monica. Covering eight states and approximately 2,500 miles, the historic highway is punctuated with pops of kitsch and classic Americana from a bygone era.

Can't-miss pit stop: Join a guided tour of the 400-million-year-old Meramec Caverns in Missouri. Jesse James famously used it as a hideout, and the Jesse James Wax Museum is just minutes away.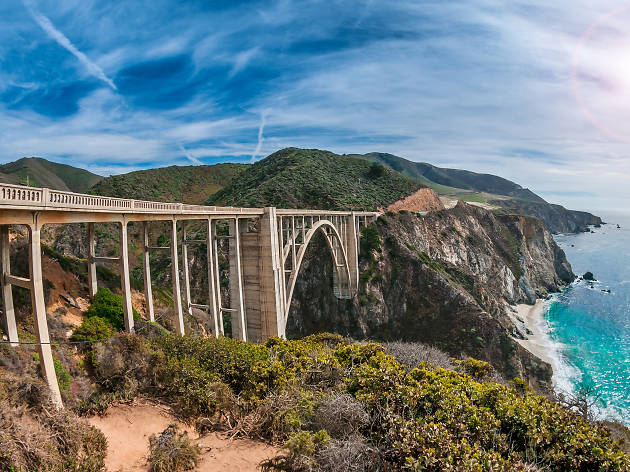 3. Highway 1 to Big Sur
This show-stealing drive may have recently shot to fame after its cameo in the Big Little Lies opening credits montage, but it's been a beloved route for in-the-know motorists for years. This California coastal classic is chock-full of stomach drops and treacherous turns, but it's all worth it for the world-class panoramas along the way. Be prepared: Some stretches can last 40 miles without a single bathroom break or gas station.

Can't-miss pit stop: Sure, you've seen it in a million car commercials, but did you even drive along Highway 1 if you don't have a picture of Bixby Bridge to prove it? Big Sur's answer to the Golden Gate in San Francisco, this impressive open-spandrel arch bridge soars 260 feet above cliffs and a steep canyon.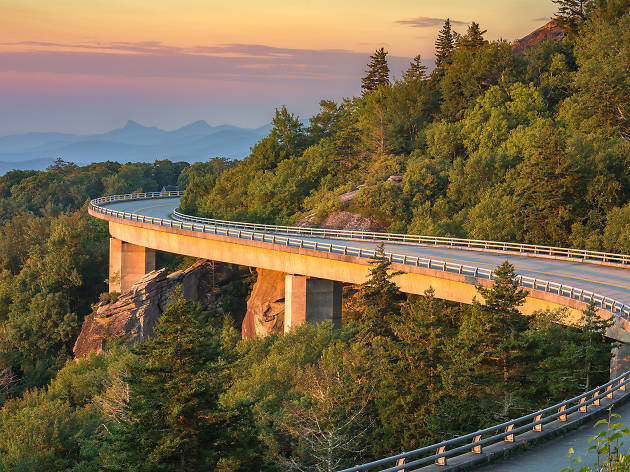 In the mood for a legendary, leisurely drive? If so, head for the Blue Ridge Parkway, where the speed limit sits at a comfortable 45 miles per hour, and commercial vehicles is strictly prohibited. Snaking through the Appalachian Mountains of Virginia and North Carolina, the 469-mile route connects the Shenandoah and the Great Smoky Mountains national parks.
For prime leaf-peeping, visit in autumn when foliage explodes in a brilliant display of crimson, auburn, and golden leaves. Can't-miss pit stop: Spend some time at Mount Pisgah in North Carolina, famous for its extensive network of hiking trails and the storied Pisgah Inn, which dates back to 1919.
You might also like: 10 Incredible Driving Roads in the USA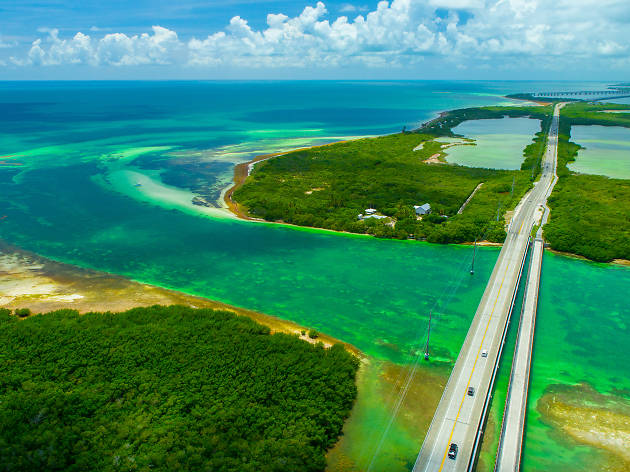 5. Overseas Highway
For a tropical escape, blast some Jimmy Buffett and hit the Overseas Highway. The route follows US-1, connecting the Florida Keys during a 113-mile, sun-drenched drive.
Originally constructed in 1928 and rebuilt in the 1980s, the continuous road connects Key Largo down to laid-back Key West. Cruise over Seven Mile Bridge (one of the longest in the world) while soaking in towering lighthouses, colorful coral reef parks, and strips of white-sand beaches.

Can't-miss pit stop: At Islamorada, which encompasses six of the Florida Keys, visitors can swim with dolphins at the Theater of the Sea and explore ruins from the 1800s in Indian Key Historic State Park.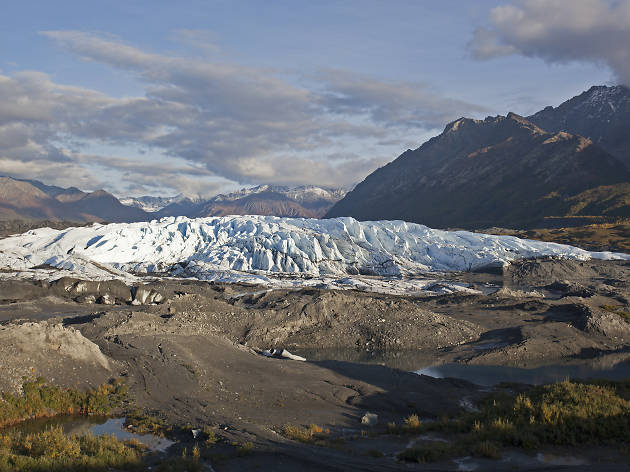 6. Anchorage to Valdez
Witness firsthand the stunning sites of Alaska on this short-but-sweet drive. The 300-mile route connects the Glenn and Richardson highways, allowing you to cruise past gleaming glaciers and mountain ranges that boast so many sky-high peaks, many of them yet to be named.
The seven-hour trek can easily be drawn out to appreciate the natural wonders of the Last Frontier, including the colorful Spirit Houses of Eklutna Village and the Matanuska Glacier Scenic Turnout.

Can't-miss pit stop: The easy hike along Thunderbird Fall Trail is a popular excursion that leads to an impressive 200-foot waterfall. More intrepid explorers should consider ice climbing on the Matanuska Glacier, about 100 miles northeast of Anchorage.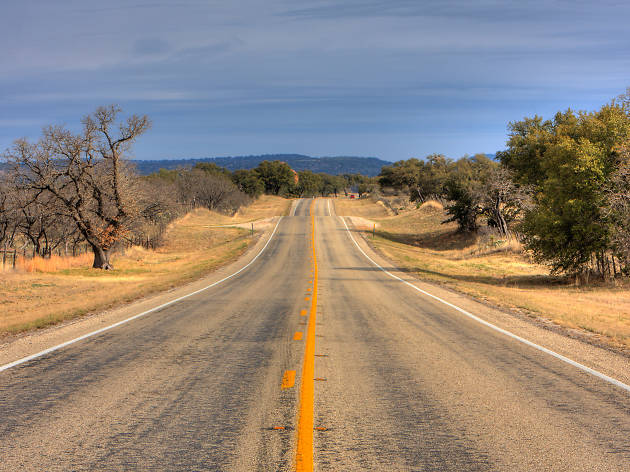 7. The Texas Hill Country
The best way to witness the Lone Star State's boundless beauty is by car. Hill Country is sandwiched between San Antonio and Austin and is known for its undulating hills and postcard-worthy bluebonnet blooms.
The spellbinding expanse is dotted with charming farmland roads, award-winning wineries, and orchards that churn out bushels of mouth-watering apples, peaches, and pomegranates every year. For meat-lovers, Hill Country is also bursting at the seams with mom-and-pop barbecue joints.

Can't-miss pit stop: Enchanted Rock State Natural Area has long attracted history buffs and outdoor enthusiasts. Located just outside of Fredericksburg, the climbable pink granite mountain shows signs of human settlement that date back more than 10,000 years.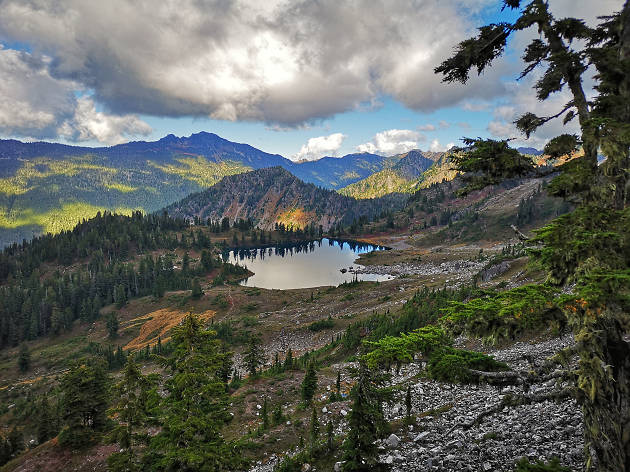 8. Olympic Peninsula Loop
The Olympic Peninsula Loop is another West Coast wonder, encircling Washington's Olympic National Park. Swerving, dipping, and diving, this 330-mile drive stands out because of the striking diversity of its terrain.
Boulder-speckled Pacific coastlines, verdant temperate rainforests, and the snow-capped Cascade Range can all be witnessed during a single day trip. Be sure to sample local oysters and fresh clams, another regional specialty.

Can't-miss pit stop: Swing by Sol Duc Hot Springs Resort, tucked away in Port Angeles, for a restorative soak in the natural mineral springs. No swimsuit? No worries: The springs welcome bathers in the buff.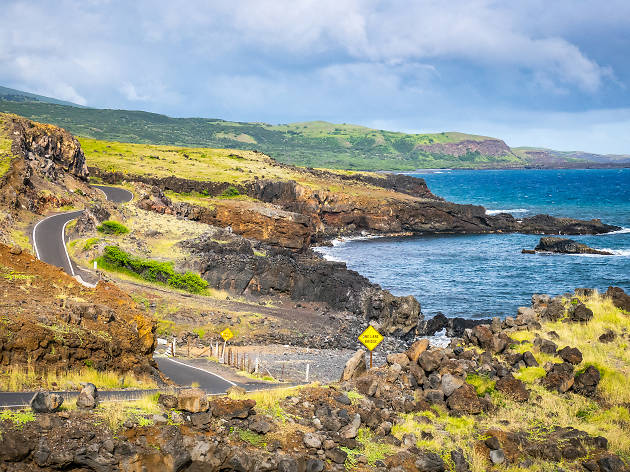 Hawaii is best known for its lush landscapes and aquatic adventures, but America's 50th state is also home to one of the top road trips in the US. This drive-through paradise links Kahului to Hana during 60 miles of jaw-dropping turns. Most can complete the journey in about three hours, but midday bumper-to-bumper traffic can seriously inflate travel time.
Along the way, look out for swaying mango trees, dramatic sea cliffs, and colonies of monk seals soaking in the sun. Can't-miss pit stop: Exit at mile marker 32 to explore Waianapanapa State Park, where undulating emerald jungles meet the rugged, black basalt lava coastlines.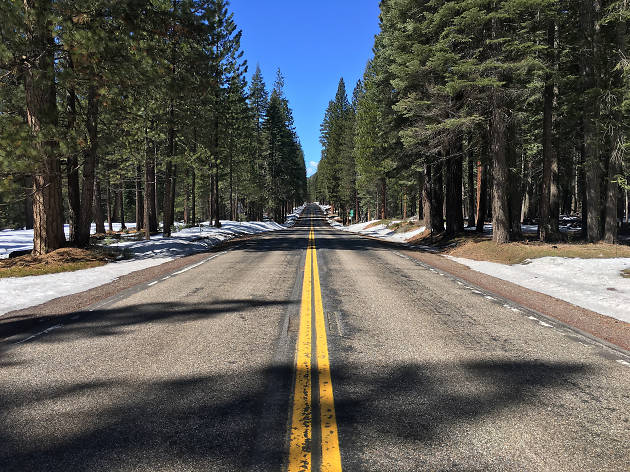 10. Volcanic Legacy Scenic Byway
For truly unusual and spectacular views, pack up the car and head for the Volcanic Legacy Scenic Byway, connecting California's Lassen National Park with Crater Lake in Oregon.
The north-to-south route covers about 500 miles, tracing along geological formations created by volcanic activity of the Cascade Mountain Range. The drive ventures through the majestic Shasta Valley and offers unobstructed vistas of Mount Shasta, the second tallest volcano in the country.

Can't-miss pit stop: There are countless things to see and do during a visit, but don't miss Petroglyph Point, one of the country's largest and most accessible panels of Native American rock art.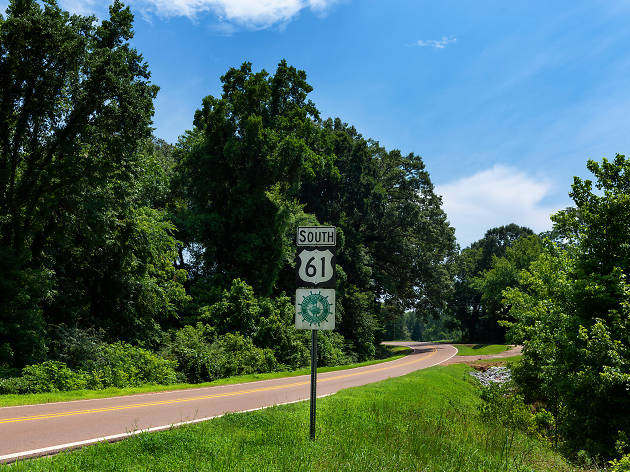 11. Great River Road
One of the longest scenic byways in America, the Great River Road traverses roughly 3,000 miles along the mighty Mississippi River. Stretching from northern Minnesota to the Gulf of Mexico, the breathtaking drive intersects ten states and takes about ten days to complete.
The well-marked route is easily identifiable, thanks to its iconic green pilot's wheel road signs. It's also celebrated for its diverse array of natural, cultural, historical, and recreational sites along the way.

Can't-miss pit stop: If the Great River Road was a meal, then New Orleans would be its dessert course. The last stop on the epic route, the Big Easy has incredible culinary, jazz, and cultural scenes.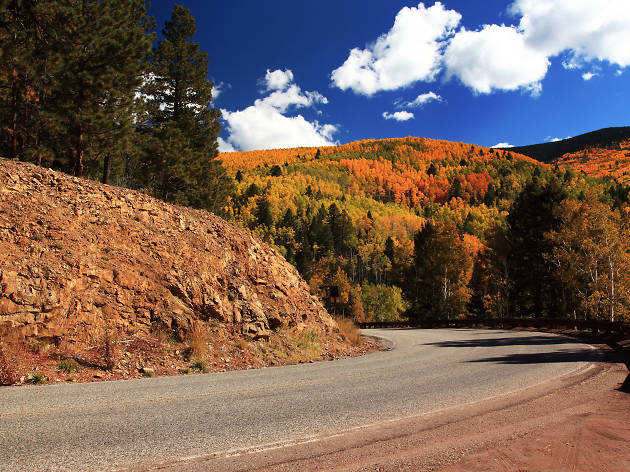 12. Santa Fe to Taos Loop
Pack a pair of cowboy boots and set course for the Santa Fe Loop, woven between the valleys of the Rio Grande and the Sangre de Cristo Mountains in New Mexico. This all-American road trip adventure looks straight out of a classic Western movie, tumbleweeds and all. Rambling desert scapes and the pueblo communities of Ojo Caliente make this drive a once-in-a-lifetime experience.

Can't-miss pit stop: Take a breather in the town of Taos, located in northern New Mexico's high desert. Known for its historic adobe architecture, the spot has numerous museums (like the Taos Art Museum), racecourse rafting along the Rio Grande, and the Wild Rivers Recreation Area.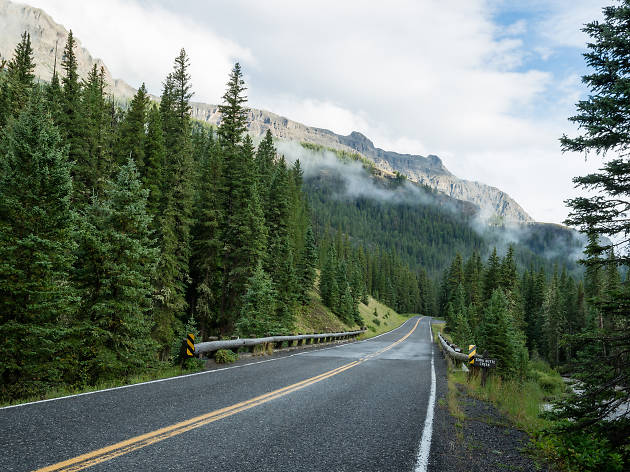 This 68-mile route is a National Scenic Byways All-American Road and brings drivers from southwest Montana through northwest Wyoming right into Yellowstone National Park. First opened in 1937, this eclectic drive has been called one of the most beautiful America has to offer.
Highlights along the route include incredible alpine plateaus, forested valleys, sparkling glacial lakes, and unforgettable wildlife. Open exclusively in the summer months, the route also climbs Beartooth Pass, a scenic stretch between Cooke City and Red Lodge, Montana.

Can't-miss pit stop: Check out Beartooth Corridor, where visitors can hike through the highlands and spot moose, elk, black bears, wolves, and more.