7 Hidden Gems You Must See When Visiting Rome
Rome is a huge city with so much to see from the Colosseum, the Vatican, the Pantheon, Trevi Fountain and many other wonderful sites that attract tourists from all over the world. However, in Rome, there are several hidden spots that only locals (or maybe not even) know to exist. These secret spots are indeed gems in Rome and bring so much awe and joy to people who check them out on their trip. Some of these gems are easier to find while others are concealed right in a corner invisible to the eye.
For second-time visitors who have already seen the major tourist attractions in Rome or for first-timers who are fascinated by hidden spots, then this article is for you. The following are some amazing hidden gems in Rome that you must check out!
1. Quartiere Coppedè
This district is the smallest in Rome and is a luxurious and dreamy local neighbourhood that is beautiful to the eye. While there, have a stroll in this unique place where you will see wonderful architecture, buildings, and fountains like Fontana delle Rane (fountain of frogs) and the beautiful chandelier hanging in the middle of the street.
Address: Piazza Mincio
2. Basilica di Santo Stefano Rotondo al Celio
Santo Stefano Rotondo al Celio is an ancient church in Rome. It stands out because of its unique architecture and its circular plan. This church is found in a peaceful small corner in the centre of Rome. Inside the church, you can find several paintings and frescoes by artists like Bernardo Rossellino and an ancient chair of Pope Gregory the Great from around 580 AD.
Address: Via Santo Stefano Rotondo, 7
You might also like: 7 Unique Places You Can Visit in Greece
3. Santa Maria della Concezione Crypts
These crypts are striking, odd and contain the bodies of monks. In fact, Mark Twain himself wrote about these crypts in his book "Innocents Abroad". These crypts have about 4,000 Capuchin friars and monks who died between 1500 and 1870 and are literally, with their full skeleton and bones, hanging on the walls of these crypts.
4. Galleria Sciarra
While taking a stroll in the center near Trevi fountain, you will definitely walk by Galleria Sciarra without noticing. But right behind a McDonalds, you can walk into the beautiful Galleria Sciarra which was built between 1885 and 1888. The interior of this gallery's building is decorated with liberty-style frescoes painted by Giuseppe Cellini in an Art Nouveau style along with an incredibly designed symmetrical glass ceiling.
Address: Via Marco Minghetti, 10
5. Chiesa di Dio Padre Misericordioso
Chiesa di Dio Padre Misericordioso is now known as The Jubilee Church and was built in 2003, with Richard Meier being its architect. It is a uniquely designed Catholic church located in the suburbs of Rome. This church is one of the few "modernly" designed churches in Rome; it was built to look like a ship, with three large, curved walls of concrete.
Address: Piazza Largo Terzo Millennio, 8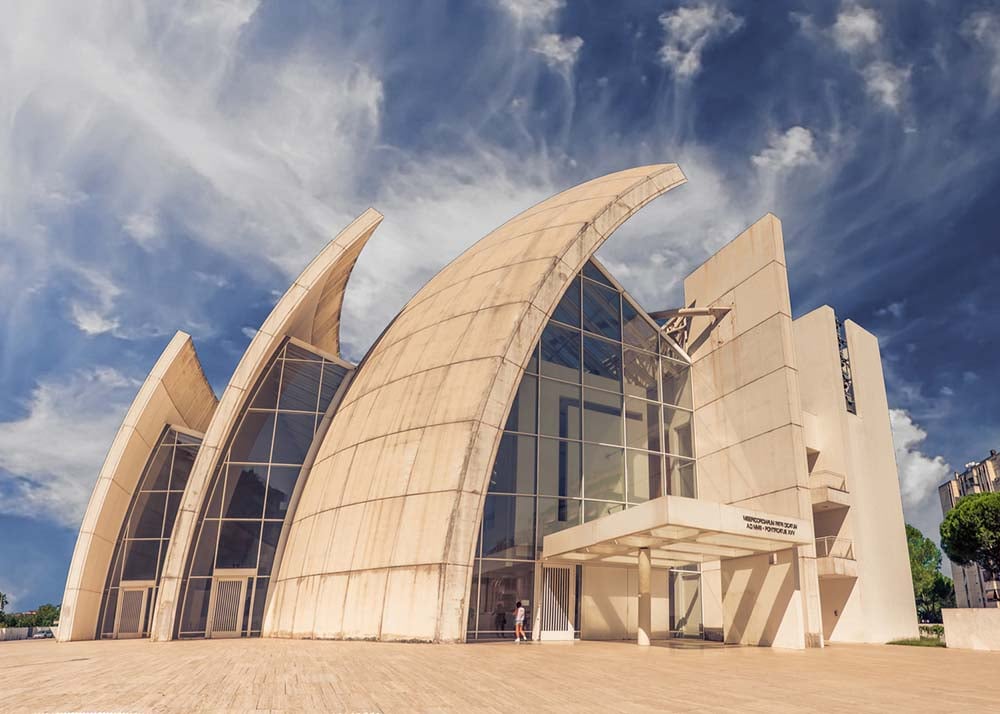 6. Casina delle Civette
Casina delle Civette (House of the Owls) is a beautiful mansion and now museum, located in Villa Torlonia's park. This mansion is the previous house escape of prince Giovanni Torlonia, Jr. and was built by Giuseppe Jappelli in 1840. This house has Swiss alpine hut architecture. Inside the house, there are paintings, sculptures, mosaics, inlaid wood, twisted iron design, and beautifully placed wall fabrics.
Address: Via Nomentana, 70
7. Piccola Londra (Little London)
If you want to have a taste of London, then "Little London" hidden in Rome will give you this experience. This residential place got its name "Little London" from its wonderful English architectural style. It was designed in 1909 by Quadrio Pirani who wanted to recreate the feeling of being in London but in Rome. This street is made of cobblestones and is just 200 meters long, located in the gorgeous Flaminio district.
Summary:
It is without a doubt that Rome is such a magical place visit. It may feel impossible to run out of things to see and do in the city, which makes it such a worthy trip. If you have already indulged in the must-see tourist attractions and are feeling curious about some of the hidden gems, then Rome does not fail to provide you some great options to enjoy. The hidden gems presented in this article are amazing sights and are definitely worth seeing while on your trip to the eternal city.