10 of the UK's creepiest abandoned places
Take a tour of the bone-chilling locations nobody would want to find themselves lost in. But will it provide you with genuine goosebumps? Read on and find out about some of the UK's spookiest locations… Note: do not attempt to trespass on these properties unless it is specified you can do so. But then that might be a blessing in disguise…
1. Rosslynlee Asylum, Scotland
Traditional mainstays of horror films due to the dark and twisted stories which accompany them, you can't deny there's something sinister about an asylum. Not least this one. Just a few miles south of Edinburgh, Rosslynlee Hospital only shut down in 2011. Largely still standing tall on the outside, the main ward retains most of the old medical equipment to this day. And while the morgue and boiler room may have since been demolished, you just know these walls have some stories to tell.
2. RAF Binbrook, Lincolnshire
A disused military airbase linked to rumours of spectral airmen and other paranormal sightings (one US fighter pilot who was said to have been kidnapped by aliens after taking off to intercept a UFO), RAF Binbrook has become a hotspot for thrill-seekers to test their nerve. Made up of several expansive hangars and outbuildings, the base has fallen into a state of great disrepair but is still open to the public.
You might also like: 16 Strange and surreal abandoned places
3. Durham City Baths, Durham
A recreational bathhouse which was closed to the public in 2008 to make way for a new housing development that never came to fruition, the baths have since become a utopia for budding urban explorers. A place that would have once echoed with the sound of families enjoying a dip in the water was replaced with the deafening sound of silence. OK, that's a little extreme, but it can't be far from the truth, right?
4. South Kentish Town Tube Station, London
Hold onto your hats, we're going underground. London's expansive tube network has led to several deep-level stations being scaled back or bypassed entirely, and South Kentish Town was one of those casualties. Now known as a ghost station, you'd be forgiven for thinking you can hear the rumble of a spectral train. Anything weirder? Well, there is a World War II escape room operating in the confines of the station, if you fancy checking the place out with a team of panic-stricken friends.
5. St Athan Boys' Village, Wales
We're venturing into some slightly cult-like territory here, but this 'summer camp' built in the twenties is now one of the UK's most active areas for ghost hunters. Initially a safe haven for the sons of local miners (many of whom would have worked at the coalface themselves), the village offered dormitories, canteens, a church, dining hall, swimming pool, and workshops – many of which can be seen standing, albeit in a ruinous state, today. During World War Two the village was requisitioned for military use, and later on, monuments were erected to honour the servicemen of South Wales Coalfields who died in the war.
6. Glasgow Necropolis, Glasgow
Anything which is of Victorian design and has 'Necropolis' in its name should be ringing alarm bells from the off. Not strictly abandoned, it's still very much in use by the 50,000 people buried there, with some sumptuous architecture for visitors to enjoy during daylight hours. Go at night, however, and you get a different story altogether. The hairs on the back of your neck will not thank you.
You might also like: 31 Haunting Images of Abandoned Places That Will Give You Goose Bumps
7. Chatterley Whitfield Colliery, Staffordshire
Once a huge mine producing masses of coal, the Colliery is considered a relic of the Victorian Industrial Revolution. The site of many a pit disaster (one 1881 incident saw the death of 24 men and boys), you'll be in for some gloomy viewing if you attend a site tour. It's a UNESCO world heritage site, so it's surely worth a fleeting visit – even if you're not in it for the spooks. Just keep your wits about you and hopefully, you won't get dragged into a subterranean cavern by some irritated spirits looking to speak to HR.
8. Birnbeck Pier, Somerset
A Weston Super Night-Mare? Couldn't be avoided, sorry. Anyway, Birnbeck Pier is located near the seaside resort town and has been closed since 1994, after being built by the Victorians. Gradually, it's being reclaimed by the ocean, but that doesn't stop it from giving us some eerie views along the dilapidated walkway. Check out that sign…it wouldn't look out of place on The Walking Dead.
9. North Street Arcade, Belfast
This vibrant shopping mall was buzzing with life until it was ravaged by a devastating fire almost 15 years ago. Once filled with a variety of vendors and packed with customers, the building is now a hulking derelict slab. The fire was suspected as arson, but the matter was never truly resolved. A priceless record collection was also lost in the attack, so keep your ears open for any ghostly music scratching away inside.
10. Hulme Hippodrome, Manchester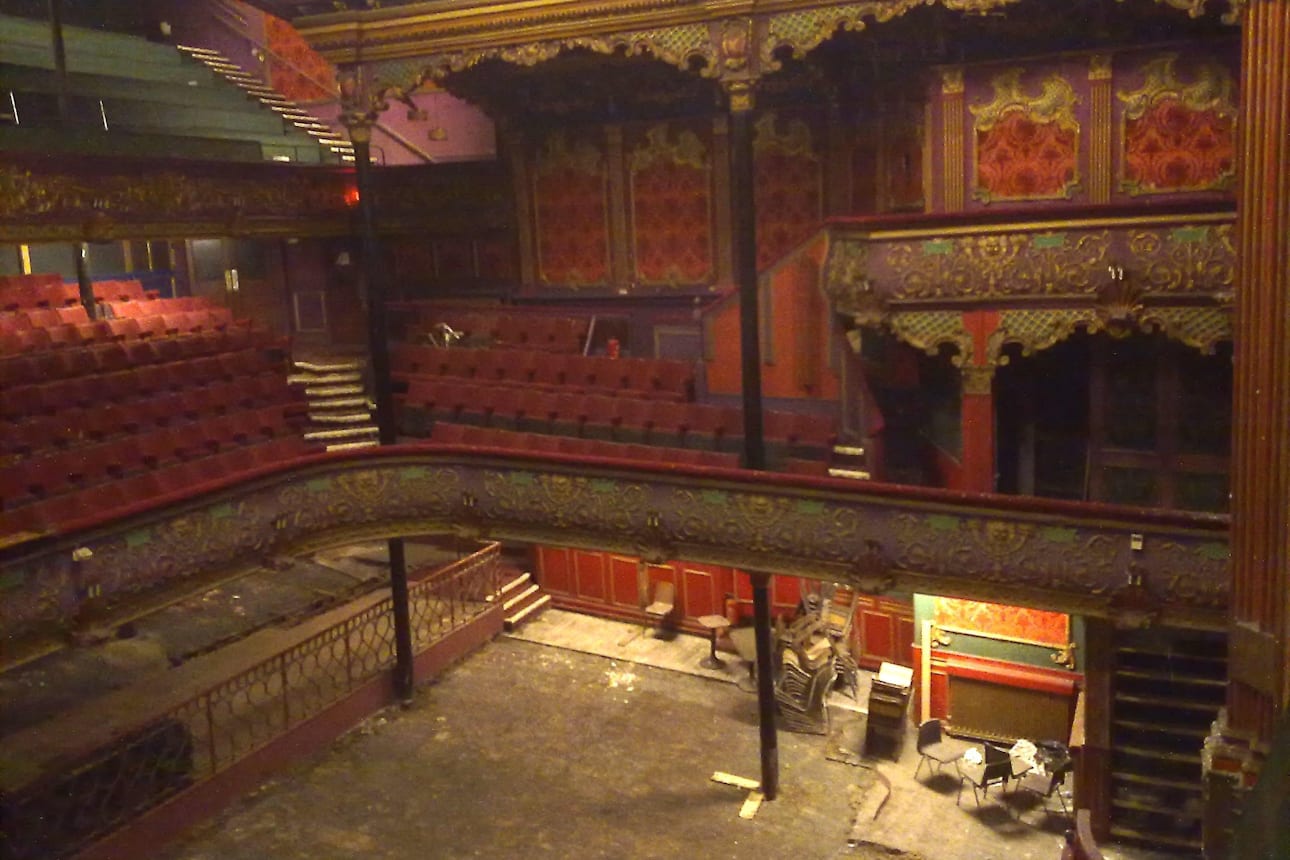 The Phantom of the Opera may not have been set in Hulme, but this abandoned theatre has witnessed many strange goings-on since its closure. Squatters are well known for breaking in to celebrate the arts (admittedly not that terrifying) but the crumbling Edwardian décor is certain to give any newcomers the chills. For many years, the Hippodrome has also been linked to a controversial preacher, who was said to have claimed he could help infertile couples have 'miracle' babies – kidnapping children to use as proof of his powers. Some stories just write themselves…